Dr. Mary Bowden has been banned from Twitter just after launching a $25 million defamation lawsuit against Houston Methodist Hospital.
Dr. Bowden spoke to journalist Emily Miller about the ban.
"This looks like retaliation," Bowden said. "My tweet yesterday exposing the collusion between Twitter and the CDC had 23,000 likes."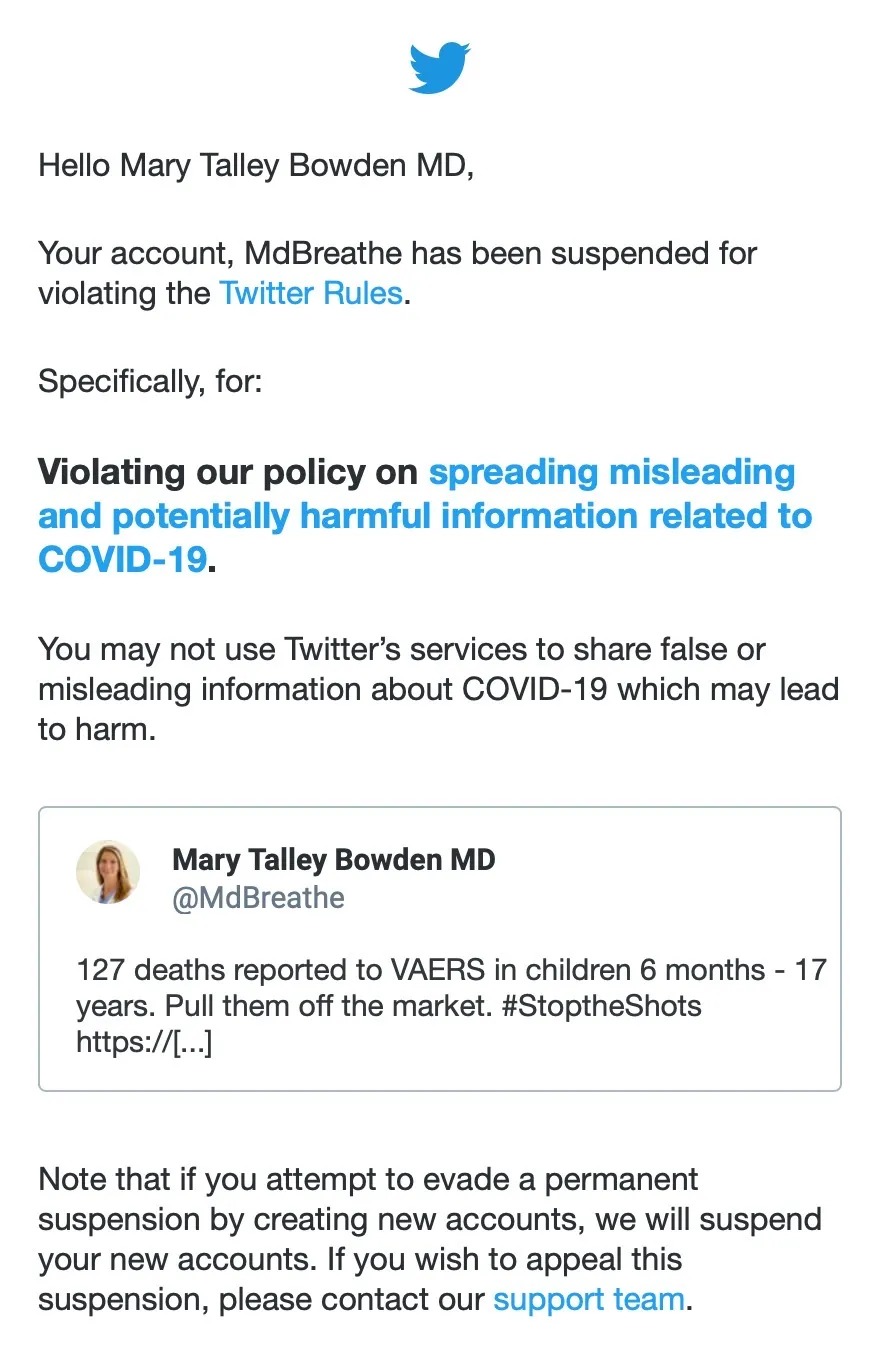 Dr. Bowden was referring to the story about the CDC coordinating with Big Tech to censor online content.
Last November, the hospital publicly denounced her for pushing Covid "misinformation" online after she publicly criticized vaccine mandates, including the ones implemented by Houston Methodist, on social media.
After hearing that some patients had been turned away because they were not vaccinated, Bowden said she would begin prioritizing unvaccinated patients.
Dr. Bowden's press conference announcing that she planned to sue was also deleted by YouTube.
The Ear, Nose, and Throat specialist said that she was blindsided by Houston Methodist's attacks on her reputation.
"Eight months ago, I received probably one of the most startling text messages I have ever received in my life," she told reporters in a press conference announcing the lawsuit on Monday. "And it was a reporter from the Houston Chronicle asking me to confirm: 'Is it true that your privileges have been suspended from Houston Methodist?'"
Soon after receiving the text message, she found an email from the hospital about her privileges being suspended. The hospital went ahead to post the news of the suspension to its 23,000 followers:
"Dr. Bowden, who has never admitted a patient at Houston Methodist Hospital, is spreading dangerous misinformation which is not based in science."
The hospital's president Dr. Marc Boom provided statements to the media saying that Bowden had accused the hospital of refusing unvaccinated patients treatment and that she used "vulgar and foul language while expressing her opinions."
Her lawsuit against Houston Methodist and its president says that the statements made were "materially false" considering she had "kept over 4,000 patients out of the hospital, and no one who has received early treatment under her care has died."
We obtained a copy of the complaint for you here.
The lawsuit also claims that the controversy has had a negative impact on her life, making her self-conscious and fearful. The complaint adds that a private school in Houston refused to admit her son because of the "statements published by Methodist."