Elon Musk's Twitter on Tuesday unbanned conservative commentator Nick Fuentes, comedian Sam Hyde, journalist Patrick Howley, former UN weapons inspector Scott Ritter and columnist Pepe Escobar.
— Nicholas J. Fuentes (@NickJFuentes) January 24, 2023
Boxing Legend Sam Hyde has been unbanned on Twitter -> @wigger ! pic.twitter.com/zogSSMbdzx

— KEEM 🍿 (@KEEMSTAR) January 24, 2023
Hey Vijaya Gadde, guess what I'm doing again? Tweeting! Just as I vowed! I have returned to the digital town square. Now let's do some Truthing!

(Send tweet)

— Patrick Howley (@HowleyReporter) January 24, 2023
I'm back. We shall see for how long!

— Scott Ritter (@RealScottRitter) January 24, 2023
I'M BACK.

— Pepe Escobar (@RealPepeEscobar) January 24, 2023
The media is predictably throwing a fit over the news.
"Twitter has reinstated other white nationalists, antisemites, and conspiracy theorists in recent months including Andrew Anglin, Baked Alaska, Sean Turnbull, Kanye West, and Ali Alexander," Dan Abrams' Mediaite reported on Tuesday (Ye is still banned).
British writer David Icke and Patriotic Alternative founder Mark Collett were also given their accounts back earlier this month.
I'm back!

— Mark Collett (@MarkACollett) January 15, 2023
The ADL last year threatened Musk with "dire consequences" if he replatformed "dangerous individuals" like Donald Trump, Alex Jones, Nick Fuentes, Steve Bannon, Andrew Tate, and David Duke.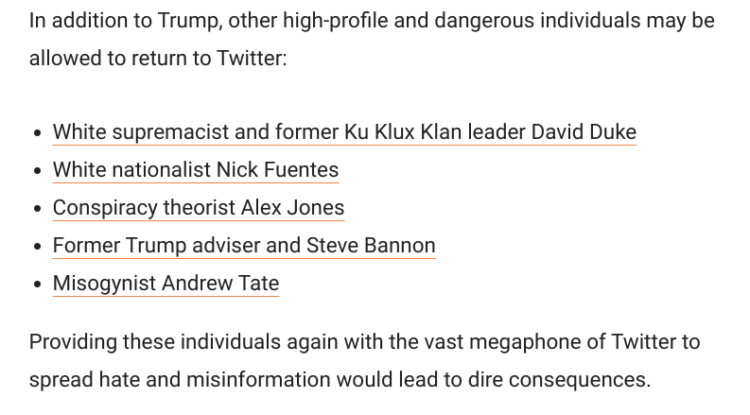 Over half have been given their accounts back so far.
ADL CEO Jonathan Greenblatt in November claimed that Musk's decision to let Trump back on the platform showed "he is not remotely serious about safeguarding the platform from hate, harassment and misinformation."
"Hey stop defaming me!" Musk responded.
Hey stop defaming me!

— Elon Musk (@elonmusk) November 20, 2022
---