It appears President Trump is about to be the first to be impeached for the second time as The Washington Post reports that House Democrats, which just formally introduced an article of impeachment against President Trump, have lined up the votes to impeach him for his role in "inciting an insurrectionist mob" to storm the Capitol.
"We actually have the votes," Rep. David Cicilline, the Rhode Island Democrat who has taken the lead in rounding up support for a resolution of impeachment, told The Washington Post.

"There's no doubt about that."
The article, co-authored by Reps. David Cicilline (R-I.), Ted Lieu (Calif.) and Jamie Raskin (Md.), states that Trump engaged in high crimes and misdemeanors by "willfully inciting violence against the Government of the United States." The full text of the article is as follows:
With the key section here…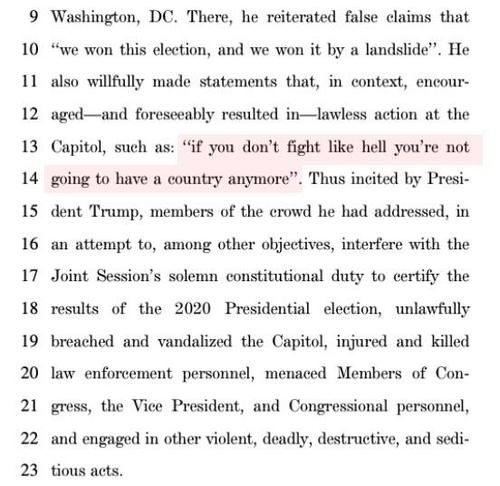 As Jonathan Turley just warned this impeachment will not only create precedent for an expedited pathway of "snap impeachments" but allow future Congresses to impeach presidents for actions of their supporters.
There was no call for lawless action by Trump. Instead, there was a call for a protest at the Capitol. Moreover, violence was not imminent; the vast majority of the tens of thousands of protesters present were not violent before the march, and most did not riot inside the Capitol. Like many violent protests we have witnessed over the last four years, including Trump's 2017 inauguration, the criminal conduct was carried out by a smaller group of instigators. Capitol police knew of the planned march but declined an offer of National Guard personnel because they did not view violence as likely.

Thus, Congress is about to seek the impeachment of a president for a speech that is protected under the First Amendment. It would create precedent for the impeachment of any president who can be blamed for the violent acts of others after the use of reckless or inflammatory language.
It remains unclear how this will unfold. House Speaker Nancy Pelosi's latest plan is for the House to vote on a separate resolution calling on Vice President Pence to initiate a 25th Amendment process to remove Trump.
---
The Democrats and their corporate overlords have already begun their blitzkrieg of tyranny, twisting the occupation of our nation's Capitol by frustrated citizens, and using it to destroy anyone that stands in their way.