Update (1052ET): Dorsey has now unlocked his account and published a resignation later, ending a brief but notably news blackout on the platform about Dorsey, one of the company's founders, leaving the top job for the second time.
The memo was reportedly sent to staff, and highlights the many jobs that Dorsey has held at the company, including being one of a handful of founders of the relatively small but influential platform.
Dorsey took credit for "every major decision" made at the company since its launch. Twitter's notorious and regular pivots during the Dorsey era, which saw twitter routinely try out – and often abandon – new features, will likely loom large in the history of social media.
Read the full letter below:
After almost 16 years of having a role at our company…from co-founder to CEO to Chair to Exec Chair to interim-CEO to CEO…I decided it's finally time for me to leave. Why?

There's a lot of talk about the importance of a company being "founder-led." Ultimately I believe that's severely limiting and a single point of failure. I've worked hard to ensure this company can break away from its founding and founders. There are 3 reasons I believe now is the right time.

The first is Parag becoming our CEO. The board ran a rigorous process considering all options and unanimously appointed Parag. He's been my choice for some time given how deeply he understands the company and its needs. Parag has been behind every critical decision that helped turn this company around. He's curious, probing, rational, creative, demanding, self-aware, and humble. He leads with heart and soul, and is someone I learn from daily. My trust in him as our CEO is bone deep.

The second is Bret Taylor agreeing to become our board chair. I asked Bret to join our board when I became CEO, and he's been excellent in every way. He understands entrepreneurship, taking risks, companies at massive scale, technology, product, and he's an engineer. All of the things the board and the company deserve right now. Having Bret in this leadership role gives me a lot of confidence in the strength of our board going forward. You have no idea how happy this makes me!

The third is all of you. We have a lot of ambition and potential on this team. Consider this: Parag started here as an engineer who cared deeply about our work and now he's our CEO (I also had a similar path.. .he did it better!). This alone makes me proud. I know that Parag will be able to channel this energy best because he's lived it and knows what it takes. All of you have the potential to change the course of this company for the better. I believe this with all my heart!
Parag is CEO starting today. I'm going to serve on the board through my term (May-ish) to help Parag and Bret with the transition. And after that…I'll leave the board. Why not stay or become chair? I believe it's really important to give Parag the space he needs to lead. And back to my previous point, I believe it's critical a company can stand on its own, free of its founder's influence or direction.

I want you all to know that this was my decision and I own it. It was a tough one for me, of course. I love this service and company…and all of you so much. I'm really sad…yet really happy. There aren't many companies that get to this level. And there aren't many founders that choose their company over their own ego. I know we'll prove this was the right move.

We'll have an all-hands meeting tomorrow at 9:05 AM Pacific to discuss it all. Until then, thank you all for the trust you've placed in me, and for the openness to build that trust in Parag and yourselves. I love you all.

jack

PS I'm tweeting this email. My one wish is for Twitter Inc to be the most transparent company in the world. Hi mom!
CNBC was careful to note that Twitter is a relatively small player in the tech space going by market capitalization (and many other metrics). While "culturally important" isn't even as large as Docusign ($37.6 billion vs. $49 billion), and smaller even than troubled social media rival Snap ($79 billion).
Now the big question: will the new management be able to execute? One analyst noted that Dorsey will likely be grateful for the opportunity to no longer face down Congress in a seemingly never-ending stream of hearings, which some fear could bog down Dorsey's successor, Agrawal, and Bret Taylor, whose ascension to Twitter's board is also notable.
Finally, it's worth noting that Dorsey has been increasingly talking about bitcoin and blockchain, two areas that Square, the other Dorsey-led startup-turned-publicly traded founder-led firm, has embraced via decisions to facilitate payments and purchase of crypto, and other moves that we see now were clearly championed by Dorsey.
The founder, known for his aggressively bizarre appearance, said during a recent interview that he would leave Twitter and Square to go help bitcoin if they needed the help.
Is that what he's doing now?
Update (1045ET): Ironically considering that it's in the business of instant and open-source transmission of news and information, Twitter has confirmed to Bloomberg that Dorsey has indeed decided to step down, and that he and the board have unanimously chosen Parag Agrawal to be the new CEO, while also joining the company's board, effective immediately.
Bret Taylor will also become an independent chair of Twitter's board. Furthermore, Dorsey has suspended his twitter account, while users complain about the paucity of information about Dorsey's move available on Twitter.
Shares of Twitter are still halted pending news.
In a fitting conclusion to Twitter's second Dorsey era, shares had soared premarket and in early trading after the open before being swiftly halted.
Many pointed out the incongruity, taking to – where else? – Twitter to express their complaints.
Update (0950ET): Trading in Twitter shares has been halted as investors await confirmation of news of Dorsey's departure.
The timing of the announcement of both Dorsey's departure, and the arrival of his successor, aren't yet clear. But Dorsey has already survived one attempt to oust him, which was led by Elliott Management founder and billionaire investor Paul Singer. Singer had publicly questioned whether Dorsey should be running both companies, calling on the CEO to stop down as CEO of one of them.
Dorsey previously served as Twitter CEO between the company's founding and 2008, when he was first ousted by the board, before being brought back in 2015 to replace outgoing CEO Dick Costolo. Dorsey also helped create Square.
* * *
Update (0945ET): Just minutes after US markets opened Monday, more details about Dorsey's plans to depart the top job at a company he helped create have emerged.
According to CNBC, Dorsey and the Twitter board have already decided on his successor, although it's not clear yet who that will be.
* * *
Jack Dorsey, the Twitter co-founder who presently leads both Twitter and publicly traded payments darling Square, has decided to cave to shareholders demands that he step back from the top job at one of the two companies he currently leads. According to CNBC, Dorsey has decided to give up the top job at Twitter.
Twitter shares rallied in premarket trading on the news, rising 12% at their peak before the open.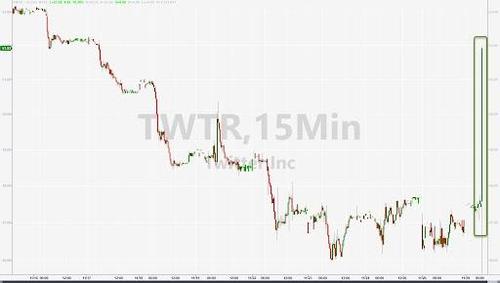 Analysts speculated that the reason Twitter shares are rising is that Dorsey's exit has signaled speculation that a bidder might soon emerge to gobble up the social media platform (even as concerns about Big Tech monopolies have forced Democrats to take action).
Dorsey has been dragged before Congress several times in recent years as Twitter has become embroiled in several controversies, most notably the argument over Twitter's systematic censorship of conservative voices (at the behest of the company's liberal backers, users and employees).
---

"We Must Have A New January 6th Investigation", Says Alex Jones