Representative Marjorie Taylor Greene (R-GA) has announced new legislation called the "Fire Fauci Act" and "We Will Not Comply Act" to fire Dr. Fauci and ban COVID-19 vaccine mandates, such as the controversial "vaccine passport."
The firebrand Georgia representative, who recently referred to vaccine passports "Biden's Mark of the Beast" and "corporate communism," has unveiled legislation aiming to ban them. In addition to firing Fauci, the legislation will "prevent discrimination against the unvaccinated, and much more to protect the freedom of the American People," tweeted MTG.
"Americans deserve better than a self-promoting career bureaucrat like Fauci, who spent the last year getting it wrong almost all of the time," MTG told the Washington Examiner.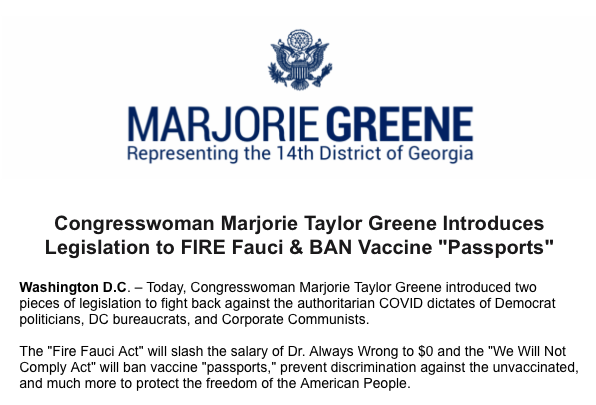 Representative Thomas Massie signed on as an original cosponsor to the Fire Fauci Act.
CNN pretends that the negative and sometimes fatal side effects of the COVID vaccine are nothing to worry about.
According to an official statement posted to Twitter, the "We Will Not Comply Act" will "prevent any business engaged in interstate commerce from discriminating against a person based on their COVID-19 vaccine status (addressing the recent vaccine passports)," "prevent Airline companies from denying someone from flying based on their COVID-19 vaccination status," "prevent students from being denied access to a public college based on their COVID-19 vaccination status," as well as push for Jacobson v. Massachusetts to be overturned due to the "terrible precedent that endorses mandatory state vaccination laws" under "police power."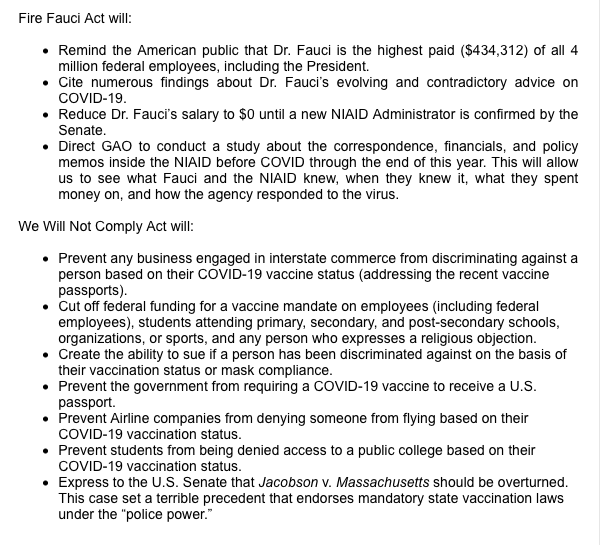 Only 44% of Americans believe that the Chinese-modeled vaccine passport is a good idea according to Rasmussen Reports. That has not stopped the Biden administration from working with corporations to force Americans into getting the experimental mRNA COVID-19 vaccine by restricting their ability to engage in commerce. In the meantime, government-influenced corporations have launched creepy advertisement campaigns featuring former Presidents and celebrities urging Americans to get vaccinated despite reports of horrifying reactions to the COVID-19 vaccine.
Harry Litman, a Bill Clinton appointee and Los Angeles Times Legal Affairs Columnist, admitted that "vaccine passports are a good idea" because they will "single out" and "break down" vaccine skeptics, prompting many to view the latest move from the Biden administration as extortion of their freedoms in exchange for a return to a regular lifestyle.
All attention is turning to Rep. Greene's Republican counterparts in the US House and Senate. The question remains whether Republicans will stand behind MTG and more than half the United States, or instead stand behind Joe Biden, Democrats, Dr. Fauci, Barack Obama, George Bush, Bill Clinton, Bill Gates, and communist China.