Big box electronics retailer Best Buy is under fire after it was revealed a company leadership program specifically bars white people from participating.
Details of the discriminatory program caused outrage on social media after they were leaked by James O'Keefe's new watchdog group OMG.
A virtual form for the program features the Best Buy logo and says candidates for the program seeking to enhance leadership skills "must meet the [racial] requirements" before saying it's only open to people who "identify as Black, Latino, Hispanic, Asian or Pacific Islander."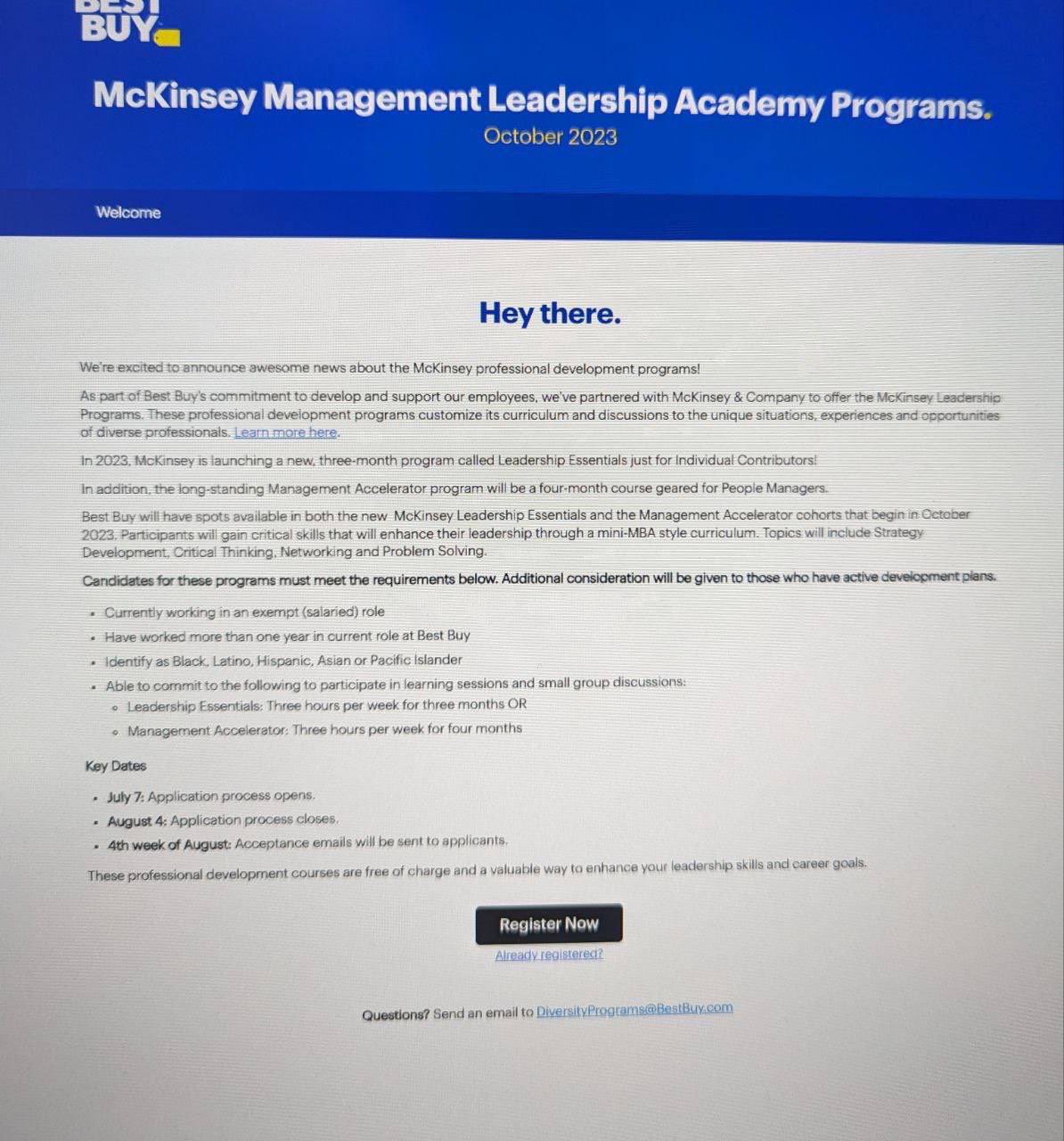 Another Twitter user highlighted the fact the group behind the leadership program, McKinsey & Co., has previously partnered with the World Economic Forum as part of The Global Lighthouse Network "pushing SEL [social and emotional learning], DEI [diversity, equity, and inclusion], CRT [critical race theory] and ESG [environmental, social and governance] in schools around the world."
McKinsey is partnered with the @wef and part of their lighthouse network which is pushing SEL, DEI, CRT and ESG in schools around the world.https://t.co/9Z1MQlykeA

— Clinton Rarey (@ClintonRarey) August 8, 2023
Following news of the leadership program's evidently racist details, Best Buy CEO Corie Barry made her X account private.
The retailer was also hit with fierce criticism and calls for boycotts.
Hey @BestBuy I'm apparently not in your demographic. I'm canceling my credit card and won't be shopping with you again.
Oh, I'm a nerd. Computers, servers, gamer with all platforms, grandparents who gift games & platforms to the kids.

— Gabby25 (@Gabby2Angels) August 9, 2023
Best Buy expediting their plan to join Circuit City and Radio Shack.

— Rightwing_Vet🐾 (@Florida_Veteran) August 8, 2023
Way to go @BestBuy I take it you don't want us shopping at your stores then, right?

— Scarlet☘️O'MAGA🇺🇸🇮🇪 (@ScarletOMaga) August 9, 2023
Here comes the Bud Light treatment for @BestBuy , I'm disgusted

— OrgConservAmericans (@OCAmericans) August 9, 2023
Well that's it for me. I won't be shopping at @bestbuy for the foreseeable future. #gowokegobroke #boycottbestbuy

— 🇨🇦 Cpl Canuck (@Bannedforlife69) August 8, 2023
Is @BestBuy a racist company?

By the looks of their management training program, the answer is an overwhelming YES.

Time to give them the Bud Light treatment. #BoycottBestBuy

— Storm Warning Mom✨️ (@StormWarningMom) August 9, 2023
Best Buy did not respond to Infowars' request for comment as of writing.
Meanwhile, O'Keefe promises more Best Buy developments are soon forthcoming.
---
The globalists are increasing their attacks on Infowars and the stakes have never been higher!
Please consider donating and visit InfowarsStore.com for merch, nutraceuticals and survival gear.
---
Follow the author on Twitter, Facebook, Gab, Minds, Truth Social and Gettr.
---
---